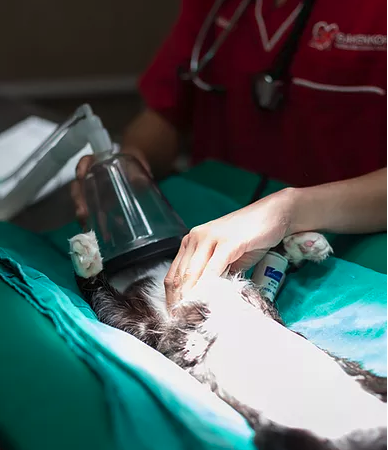 Dr. Kristina Lutz is the head of our surgical department. With an Honours degree and over 21 years of experience in practice, you can rest assured that your pet is in good hands in our theatre.
We are equipped with 2 separate theatres:
A theatre for special procedures and sterilizations.
A theatre for less sterilize procedures like bite wounds and abscesses.
​It is our mission to provide excellence in all areas of surgery, including soft tissue surgery and orthopedics. We do refer more complicated orthopedic cases and spinal surgery to a specialist facility.
Services that we offer:
Sterilizations of dogs, cats and certain exotic pets.
Wound management and surgical intervention
Mass removal
Abdominal surgery
Thoracic drain placement
Hernia repair
Amputation
Certain ophthalmic procedures (entropion, cherry eye, enucleations)
Intestinal, hepatic and bladder surgery
Biopsies
At our clinic all surgery patients are monitored by qualified veterinary nurses before, during and after their procedures.
Post-surgery our nurses will ensure that our patients recover smoothly by constantly checking their vital signs, keeping them warm and feeding them a meal before they are sent home.
Most procedures will go home the same day after 15:00, others might need to stay longer and will be discussed with you on the day.
Please feel free to book an appointment with one of our veterinarians to discuss any procedures and to receive a cost estimate.
Please familiarize yourself with our policy regarding procedure bookings.