Meet Bentley, the 7 year old jack Russel and much loved furry family member of the van Wyngard family.
Bentley definitely deserves to be crowned as our June Pet Star of the month as he fought hard to still be with us today.
On the 5th of June, Bentley and his furry sister, Bella (German Shepard) were rushed to our hospital as they had been poisoned. Shortly after their arrival, another dog from the same street came in. Unfortunately Bella and the other dog did not survive the incident and passed away on the same day. Bentley was still unconscious at that stage.
He received intensive treatment at our hospital for over a week where he was placed on a drip, needed to be fed through a nasogastric tube, he needed oxygen therapy, thermoregulation, monitoring of his organ function etc. The whole team at our hospital got attached to this little guy and we kept him in our prayers at night.
Bentley improved a little bit every day and by night 7 he was sent home, eating and wagging his tail. We were so happy we all jumped with joy.
Sadly 6 days after that he was re-admitted to our hospital with some complications and needed to be on a drip again for the weekend.
About a week after being discharged the second time, he went for a little walk in the neighbourhood with his mommy and they were attacked by a Pitbull who came out of his yard. Bentley's mom needed to be admitted for bite wounds and sutures. Bentley was only grabbed by the collar and didn't sustain any serious injuries.
June was a tragic month for the family. Having 3 hospital admissions between them and they lost a beloved pet. It was obvious that Bentley missed having a friend so this week they welcomed Bailey, a Jack Russel puppy into their home to keep Bentley on his toes. After all this, Mrs van Wyngard took out pet Medical Insurance for both Bentley and Bailey. She mentioned that accidents happens so quickly and not being prepared for it does make all the trauma so much worse.
Van Wyngard family, we are so terribly sorry for all the heart-ache you had to go through this past month. We admire you for your resilience and for giving Bentley a second chance in life.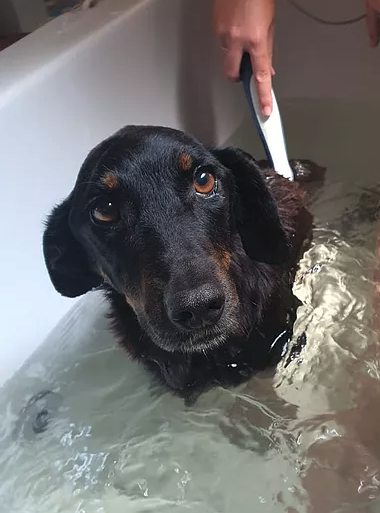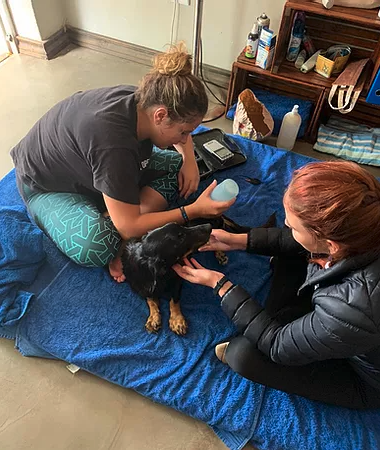 "Courage is fear holding on a little longer"
Meet "Courage", an approximately 6 year old Basset mix stray. This loving dog was found on the dumping site close to the R55 by 2 gentlemen from the Scorpion security company. It appeared as if he had been abandoned. He was lying in the sun, possibly for days and was unable to walk.
The two gentlemen, Ricardo and Jadan were very concerned about him and immediately brought him to our hospital. They also made a donation towards his medical treatment.
Dr Megan examined him upon arrival. He was dehydrated but so thankful to have been found that he could not stop wagging his tail. Unfortunately he was unable to fully extend his hind legs or walk at all but he found a way to drag himself by his front legs. This is why we named him Courage.
He spent the night on a drip and was monitored 24/7 throughout the night by our night nurse, Sister Aniceta and after-hours' veterinarian, Dr Roy on duty. By the following day his appetite increased tremendously and it was clear that he was already feeling much better! His tail still wagged every time we gave him attention.
Radiographs confirmed that his back legs had been fractured some time ago. We suspect that he went through a traumatic incident and did not get the medical attention needed at that time to assist the recovery without complications.
The fractured leg healed with callus formation (bony growths) which led the muscles to contract permanently leading to his hind limbs being in a permanently flexed position. Surgery is not an option because of the chronicity of the damage in the joints.
His quality of life is not sustainable long-term, since trying to move is causing him to get pressure sores and pain and it is not fair to not be able to run or play like other dogs. He developed pressure sores from dragging himself around.
Dr Kristina took him to the well-known physiotherapist, Heather Withfield to establish whether therapy would be an option. They decided to give this doggy a 2nd chance by doing daily physio session on him to see if his muscles could get stronger and more flexible so he can have an acceptable quality of life again. We are treating him for pain and started him on Hill's j/d joint diet to assist his recovery in every way possible.
We would like to thank Hill's Pet Nutrition for sponsoring a bag of joint diet as well as Heather and her team at Pawsative Pawsabilities for all the sessions they have put in so far to try and help Courage.
He is touching hearts everywhere he goes. If you would like to contribute towards Courage's treatment, we have a separate fund for him. You can email cindy@bakenkop-vet.co.za for banking details and please use the reference "Courage" when making a donation. Every R100 will make a big difference towards his treatment received.
Meet Levi, the 11 year old Labrador retriever and much loved furry member of the Strauss family.
Dr Johan booked him in for a SENIOR WELLNESS PACKAGE at our Clinic. We advise routine yearly check-ups on all pets but even more so for our senior pets as they age quicker. Levi's age is equivalent to a 70 year old human.
This package includes:
General examination
A yearly vaccination
Deworming
Tick and flea treatment
General anaesthesia + Dental scale and polish
X-rays of the back, hips, knee's, elbows and chest
Basic blood screening
SDMA kidney function test
Faecal analysis
Urine analysis
After taking radiographs, we confirmed that he has mild hip dysplasia, which is common in large breed dogs, but because we did a routine SCREENING on him, we discovered this abnormality before it became an untreatable problem. He is on the correct pain medication and diet to support his joints and ensure that he stays pain free.
It warms our hearts to say that this Golden oldie is in such a good condition. His blood tests were normal and his teeth is now clean again. His vaccinations, deworming and parasite control treatments are all up to date and most importantly, the owners know that they are doing their utmost to give Levi the best possible care.
Levi, you are our GOLDEN OLDIE rock star this month! Strauss family, well done on proving why preventative care is vital.
Book your pet for a Senior wellness package at a massive discounted price today. Please phone reception on 012 653 4474 for price queries and bookings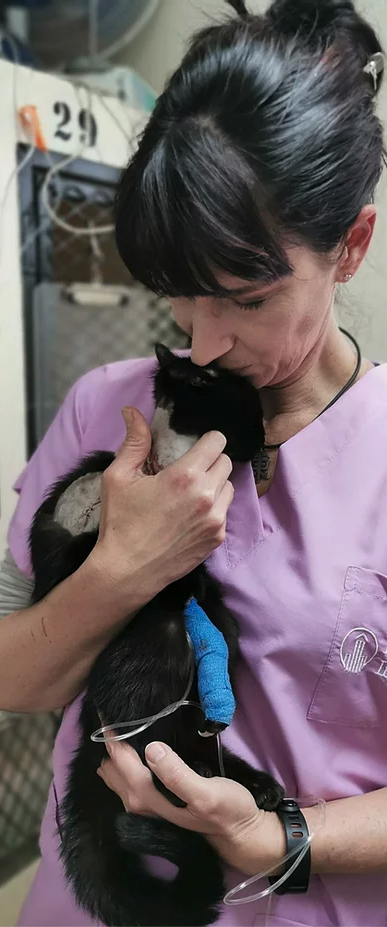 Remember Hope, the rescue kitten who stole the hearts of the whole Bakenkop team and some of our Clients?
In December this kitten was found on the streets. She was terrified and ran away from the community members who tried to pick her up. She ran into a nearby municipal water pump substation which they did not have access too. A community member phoned CERT emergency services for their assistance. They arrived soon after and with the help of a municipal worker, they managed to catch her. She was terrified and she had some very bad wounds on her legs and neck.
The good Samaritans who found her, also clients of ours, rushed her to us for medical attention. On closer inspection and full examination it was found that she had a snare wire stuck around her neck and leg. The wire was removed immediately, she was placed on a drip and received some pain medication, antibiotics and a big bowl of soft food. She ate as if she had not eaten for days.
After spending a night on a drip, Dr Kristina Lutz examined the leg and the wounds around the neck again. Unfortunately the wire had caused too much damage. The blood flow to this limb had completely been cut off by the wire and the leg was infected. There were also large open wounds on both sides of the neck. Despite the severity of her injuries, we knew she deserved a second chance in life.
After careful consideration, it was decided to amputate the leg. Not only because the limb had no more feeling but also to prevent further spread of the infection in the leg.
The operation was done the same day without any complications. The wounds around the neck are also closed with sutures. This little black cat has so much fighting spirit in her! She already stole the hearts of all the Bakenkop personnel. So much so that our stock Manager at the clinic decided to give her a loving home. She was then renamed Tayla, which means strong and beautiful.
After another week in hospital, where she became more like a Bakenkop family member, she went to her new loving home. She got to meet her feline family members too. At first, they were a bit shy of each other but they quickly got used to the "new normal". They play with each other when no-one else is watching.
Today it is just over a month after the operation and we are happy to report that Tayla has picked up some weight as she still LOVES eating, she has adjusted in her new home and she is coping nicely with only 3 legs.
We would like to give a big shout out to the CERT team for assisting the community by saving this lovely cat from the street and the Uitzingers' for making a generous donation towards our stray fund, helping us with her medical expenses. We know that she will receive the best love and care from the Herbst family.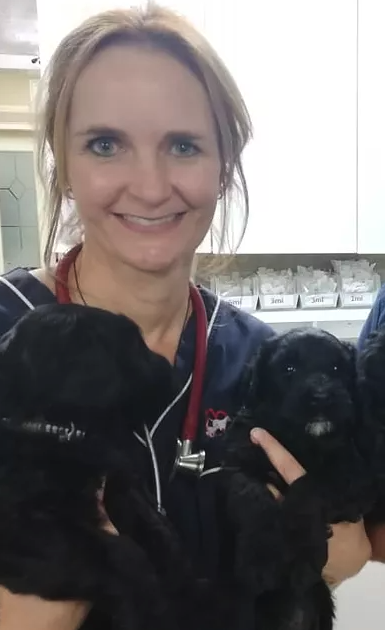 Meet Dasha, a 5 year old Russian terrier and much loved furry family member of the Calitz family.
In June this year, Dasha was on heat. Herman and Sumarie made the decision to have her mated with and allow her to have at least one litter before sterilizing her. They were excited to experience puppy birth and whatever challenges goes hand in hand with it. After all, it is said that motherhood comes naturally. And who does not love puppies?
On the 17th of August, Dasha starting with nesting behaviour. It was obvious that the birthing process was about to happen. Dasha started getting contractions in the morning hours, with Herman and Sumare close by her side the entire time. Dasha struggled for a long time but could not get any puppies out and there was a green discharge visible.
Mr Calitz phoned our Clinic during the early hours of morning to speak to Sister Ann, who was on night duty with Dr Yolande, thus assisting with any emergencies. It was advised that Dasha be brought to the Clinic for an examination and radiographs to see how many pups she still had in utero and if they were in the correct position to be born naturally.
The radiographs confirmed that she still had 10 puppies inside of her. Dr Yolande did a vaginal exam and found one puppy already in the birth canal. The option of a C-section was discussed with the owners but it was decided to give Dasha some more time to try and give birth naturally. Dr Yolande gave an injection to further assist with contractions and sent Dasha home where she will be most comfortable to continue with the birthing process. The Calitz couple then knew exactly what to look out for and when to phone us again. They understood that if Dasha did not manage to get the puppies out soon, it would become an emergency and the puppies will need to be removed by a C-section. We regularly perform C-sections on especially small breed dogs.
Dasha went home with her owners, who still have not slept at all the entire night. In the next 3 hours, 3 puppies were born. At 7am Sunday morning, they brought Dasha back after one of the pups had unfortunately passed away. By this time Dasha had been in labour for hours already and the Calitz family did not want to risk any of the other babies' lives. Dr Yolande advised that we surgically remove the pups by C-section. The owners also agreed to have her sterilized at the same time.
Dr Yolande, with the assistance of Dr Johan and Sister Marietjie who monitored the anaesthesia, went into theatre immediately whilst the other puppies were being bottle fed by Sister Cindy. Unfortunately another puppy was found dead in the birth canal.
After the C-section and recovery period, Dasha, her exhausted owners and the rest of the puppies went home with a tin of puppy milk as back-up. Dasha struggled as a new mom in the beginning. It took her some time to know how to lie so that her pups can suckle. She also didn't seem to know how big she was and accidentally lay on one of her puppies, which also passed away. Another puppy was diagnosed with a serious birth defect and unfortunately had to be put to sleep. Sadly only 6 out of the 10 puppies were left.
With this experience, the Calitz couple shed many tears of sadness but also tears of joy. They can easily now warn other pet owners of the big responsibility that comes with allowing your pets to have a litter. It is also not always as easy or natural as people might think. Sometimes surgical invention and medical treatment is needed. Mrs Calitz also added that she did not realise how emotionally attached you get to these pups, even if they are only a part of the household for a few weeks. If you cannot deal with this heartache, lack of sleep or financially support the medical expenses that go hand in hand with breeding, we advise pet owners to sterilize their pets as soon as they are matured enough. It should also be kept in mind that there are cases where pet owners will be left with the responsibility of feeding and stimulating pups every 2-3 hours.
With this being said, we want to thank the Calitz family for their dedication towards Dasha. They stood by her side the entire time, asked for medical advice and intervention when needed and still give the puppies the best start in life. A house filled with love and care.
A week back, the 6 puppies came for their first vaccinations and deworming. What a heart-warming site it was to see these beautiful pups back at our Clinic. Strong, happy and healthy. Calitz family, we salute you for all that you have been through this past 2 months.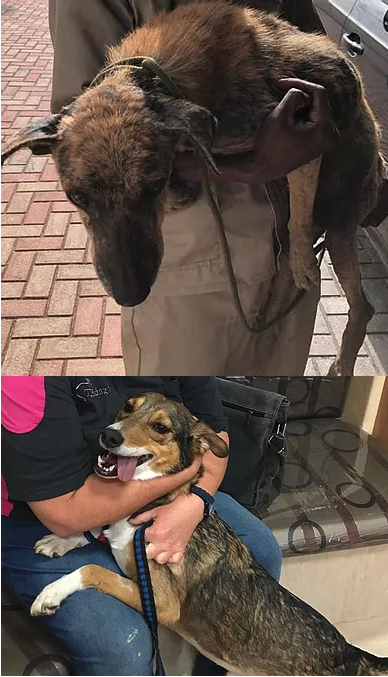 Meet Freddy, a very brave Afrikanus x Collie boy that is about 4 years old. Freddy deserves our Pet Star of the month title for all that he has been through.
In July, in the middle of the Winter one of our clients, Ms Cindy van Aswegen found Freddy, next to the road at the airport in Port Elizabeth. She was on her way back to Pretoria when she spotted him lying in the rain outside, barely moving. She ran towards him and could not believe that he was alive. He was in a terrible condition. He was severely emaciated, full of ticks, he had mange and a fractured leg.
Cindy has always had a soft spot for animals and could not leave the dog and get on her plane. So she missed her flight and took him to the nearest vet in the area where they treated him and kept him for 4 days. Luckily the fractured leg was stable and did not need surgical intervention.
Cindy did some networking and managed to find him a foster home in PE for time being. He started picking up some weight and got used to human contact.
After a month, Cindy managed to get Freddy to Pretoria where he came to our Clinic for a full clinical examination. We diagnosed him with a TVT (transmissible venereal tumour). This is a tumour of the external genitalia that gets transmitted during mating. Freddy is currently on a weekly Chemotherapy program at our Clinic. During this time, Freddy also found a loving forever home with Adre.
Despite the horrible side effects Freddy has to endure with his weekly chemotherapy and his saddening street life, Freddy still wags his tail when he enters our Clinic and his eyes now sparkle with new life.
Thank you Cindy and team for giving Freddy a second chance in life. We salute you!